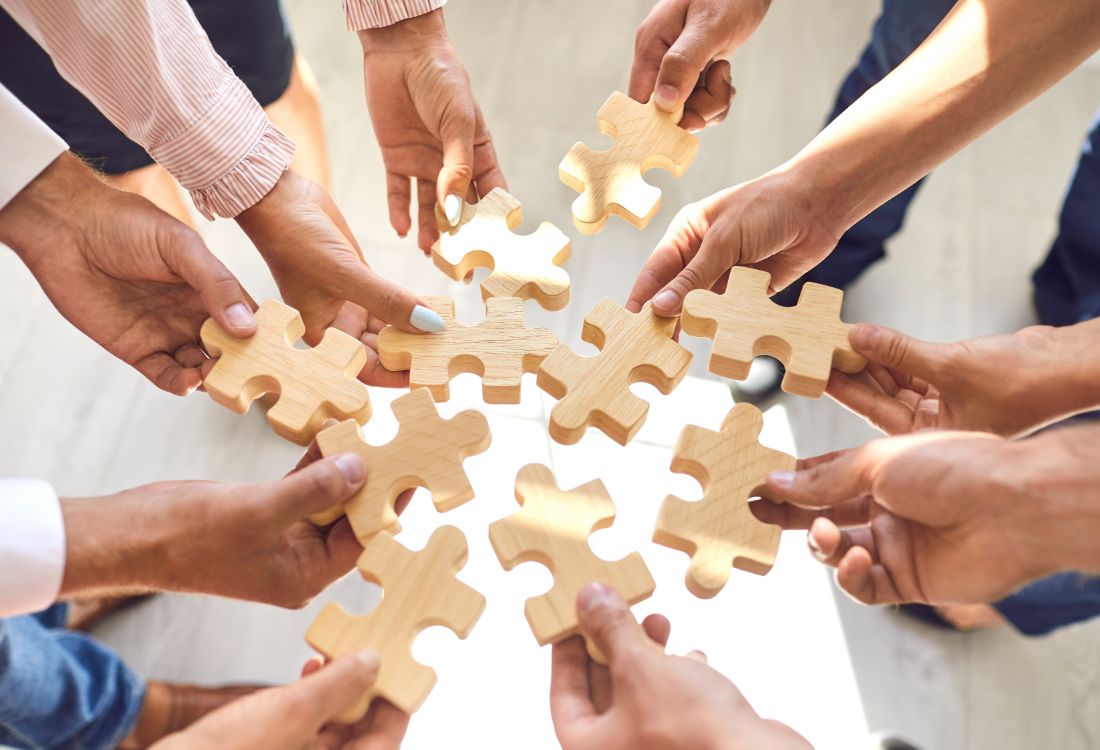 How Can Business Simulations Impact Organisational Results?
Business simulations can help your business to achieve a wide range of positive outcomes, including strengthening group relationships and culture, to consolidating learning from training activities and thriving under pressure. In this article, we discuss what business simulations are and how they can benefit your business.
What Is a Business Simulation?
Business simulations are experiential scenarios that reflect real-world business environments. During a simulation, individuals learn to respond to workplace challenges and initiatives in an effective manner, developing their skills and their ability to work collaboratively with others in a challenging but safe environment.
Individuals taking part in a simulation can role-play different responses to scenarios to determine the most effective approaches, and by doing so can deepen their understanding and reduce their stress response when faced with similar situations in the workplace.
What Are The Benefits of Business Simulations?
1. Better Preparedness For Unexpected Events and Times of Change
The best business simulations accurately replicate realistic challenges that organisations, individuals, and teams may face. During a simulation, participants are encouraged to examine real-world factors from different angles and to consider how different courses of action can affect their outcomes and how they as a team can work better together to get the best results. Combining the big picture with small details results in better preparedness and increased resilience, so businesses can deliver an agile and strategic response to problem-solving.

2. A Challenging But Safe Environment
In corporate training, it can be difficult to strike the right balance between a challenging environment and a safe one. If individuals are afraid of making mistakes (as in the real world), the powerful impact of the training is diminished, as the exercise fails to tap into the team's full potential. Business Simulations provide the perfect arena for individuals and teams to safely take risks and make mistakes, with the goal of learning and understanding how our actions are likely to affect results.
3. Closer Cooperation and Collaboration Between Colleagues
Business simulations include challenges specifically designed to stimulate collaboration and teamwork amongst colleagues. As such, simulations play a fundamental role in measuring how effectively your people are working together and enabling the development of stronger and healthier workplace relationships. Fostering closer cooperation brings richer perspectives into companies and the challenges they face as well as ultimately better business results.

4. Superior Engagement With Training Material
Some employees or organisations may be reluctant to participate in training activities because they often fail to truly engage learners with skills and principles they can easily apply back in the workplace.
By contrast, simulations are tailored to be highly relevant to those participating, so they pique people's interest, knowing they're likely to come across very similar situations and challenges in their day to day work. Scenarios are designed to be engaging and practical to naturally encourage critical thinking, decision-making and open discussion, as well as planning and communication skills.
What Do GRA Business Simulations Do?
Some simulations use software, case study reviews or classroom-based role-play. At GRA we take an experience-led approach, combining multiple training methods to bring situations to life. Our delegates undertake real challenges and exercises to earn revenue for a fictitious organisation that will be 'in business' for the duration of the simulation.
We have over 30 years of experience designing and delivering experiential simulations that create an environment in which participants can put their knowledge and training to the test, witness how their actions impact on performance and receive constructive feedback.
We tailor our simulations to your organisation's values, culture, and the learning journey your employees are on, to develop crucial leadership skills and the right mindset and behaviours for successful team performance. We draw out these elements through the customer expectations we set, the activities and challenges our delegates undertake, and the reviews completed afterwards. We can also incorporate real initiatives from within your organisation, for example, projects focused on sustainability, communication strategy or implementing technology initiatives.
Next Steps – Personalised Business Simulations From GRA
GRA create tailored business simulations to meet a wide range of training and development needs. We have extensive experience creating and delivering business simulations, ensuring that all activities are engaging and contribute to solid leadership and team development in the workplace.
As one of the leading business simulation companies in the UK, we're happy to discuss your specific needs and requirements, and to suggest a solution that meets your needs, budget, and timescale. To find out more, please call 01962 779911 today.

Image Source: Canva