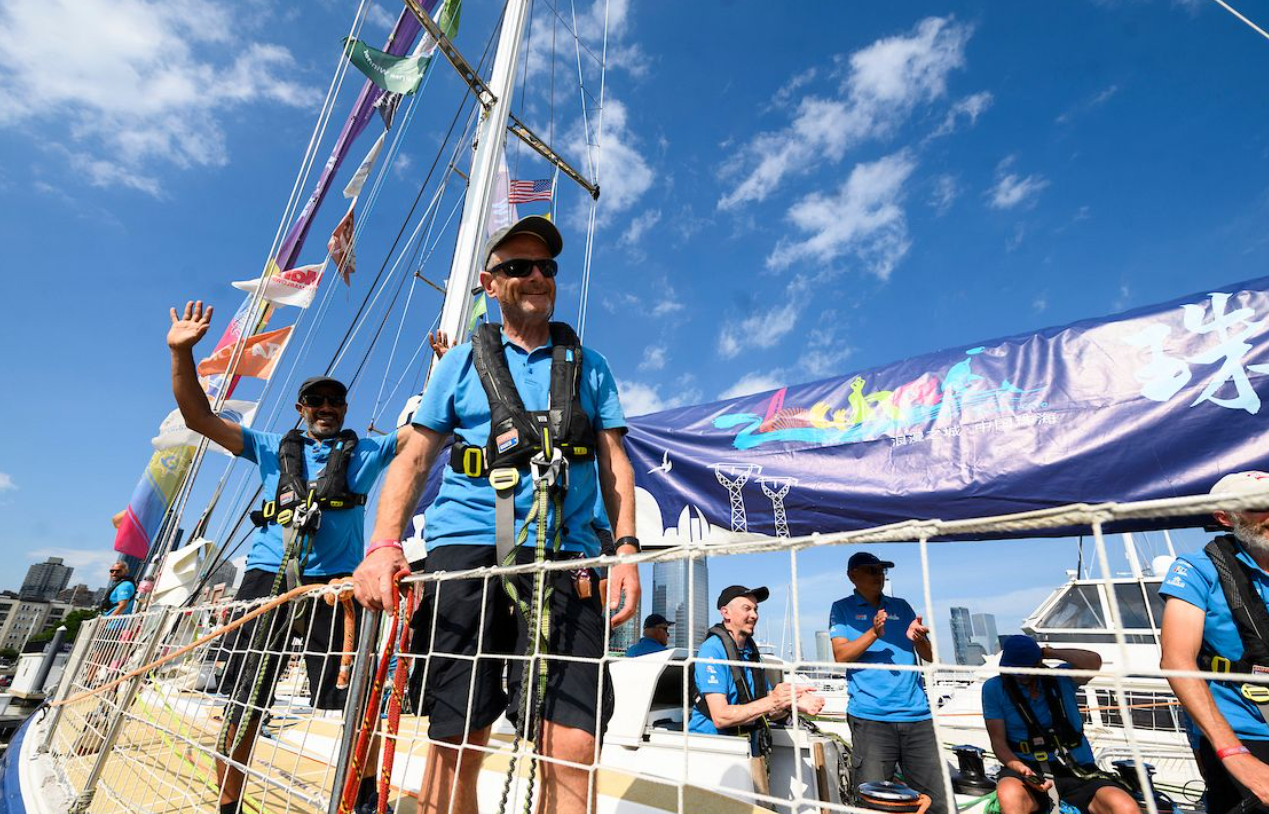 The Crossover Of Leadership On-Board With Good Business Practices
Leg 7 - The USA Coast to Coast & Leg 8 Races to New York and Derry-Londonderry
GRA's Brand Ambassador, Pat Turner, on board Team Zhuhai, tells us of his experience on the penultimate legs of the Clipper Race and further explores the crossover of leadership on board a Clipper 70 with the corporate world, this time in relation to good business practices.
We arrived in Seattle after the longest North Pacific crossing in Clipper Race history, where we raced from the Philippines to Seattle. As is the norm for all ends and beginnings of the sailing legs, we had a crew changeover with some crew leaving the boat and new crew joining. In our case we had seven leavers matched precisely with seven joiners, representing a 50% turnover for our boat. In Bermuda and New York, we had a further five further leavers and four new crew joined us.
Whilst there are many factors that I could cover relating to new team development, coming into a team with an existing cohort and the opportunities to utilise the capabilities built amongst the existing crew, in this blog I have focused my observations and thoughts on leadership, as I have seen this in practice and the crossover of leadership with good business practices.
It may seem obvious and largely expected that the leadership tone and style of a business is substantially set by its management. However, in practice this means very little unless the tone and style is adopted and brought to life for all employees through the approach and behaviours of its line managers and all colleagues. This is exactly the same for our team yacht Zhuhai, with the Skipper and Additional Qualified Person (AQP) largely setting the tone and approach, but with the crew effectively bringing this to life in practice through their responses, engagement and behaviours. Let's take a moment to reflect on some of the less usual characteristics of our team at sea:

• Mixed abilities regarding sailing experience, although we have all completed the same Clipper Race training programme
• Mixed nationalities where the English language may not be the main language for some crew (but English is the language used on the boat)
• Mixed ages, presenting different and broader perspectives
• Mixed genders
• Mixed social backgrounds
• A mix of motivational factors and expectations, as to why individuals are participating in the Clipper Race and what they want from this experience

I set out the above characteristics simply to illustrate that we have an atypical team to that which you might see in any business environment, where teams generally consist of individuals with a set of skills within a common discipline and have been deliberately selected for their roles and tasks. Within this context, one would also hope to see a business work towards having broad diversity across age, race and gender spectrums as well as other characteristics.

There are four areas of leadership in practice that I'd like to touch upon. As with a compass that points north, south, east and west and which helps us to go in the right direction, the leadership 'compass' on board also helps us to go in a positive direction, gravitating towards the following areas:

• Communication and consultation
• Engagement
• Development and empowerment
• Directive situations

Communication and consultation are like the oil for a well-running machine. This is evidenced on board through daily crew briefs, discussion forums/sessions, problem-solving exercises and team management of work programmes (e.g. sail repairs) and stopover schedules. Within a successful business, you will find internal communication plans, alignment of messages to core objectives, and delivery through line managers and other media, all of which lead to an informed workforce.

Engagement for crew members is brought to life through our crew/watch meetings and discussions, 1-2-1 coaching sessions and sessions debating sail strategies, tactics, and plans, for example how we plan to get from A to B, with regular reviews.

Within a successful business, you should expect to see clarity of business strategy at all levels, business briefings and forums for feedback and discussion. Great teams know where they are going, why and how they plan to get there!

Through development and empowerment our crew members have been able to build up their sailing knowledge, skills and capabilities through the regular briefing and coaching sessions, some of which have been on a 1-2-1 basis (e.g. helming techniques). The knowledge sessions are broad and varied, covering a refresh of some core requirements (e.g. sail evolutions or changes whilst racing), safety requirements and the more complex or unfamiliar aspects (e.g. navigational systems and sailing strategies). We have also learnt a lot about interpreting wind direction, wind angles and wind speed linked to the sails that we have available, and the sailing strategy that we wish to deploy. This latter area of development is both a science and an art, in my opinion, bringing together fact/logic with practical applications.

Successful businesses understand the commercial and personal benefits attached to ongoing training and development. This development supports not just the most immediate needs but also building future capabilities, fostering retention of skilled and motivated colleagues.

Finally, there are directive situations where the leadership style needs to be modified and channelled towards explicit instructions and actions. This is evidenced in areas of greater risk (e.g. high/rough seas), key moments in a race (e.g. the frenzy of a Race Start), shipping and potential collision risks, matters impacting on crew/personal safety. There will always be moments in our sailing adventure where a leader or a competent team member needs to provide direct and prescriptive instructions and/or support, to ensure specific actions are taken, quickly, to then arrive at a desired outcome.

You will see this in a business where commercial decisions or responses are required, relatively quickly, often driven by external factors or influences.

So, on reflection, our leadership and team dynamics are those that you might see in many good businesses albeit the context and team characteristics on board Zhuhai are so very different. It all makes for a very interesting journey, for the team and for me personally, in what is surely the biggest sailing challenge available to sailing novices like me.

We are now looking forward to the final race into London. We have been through areas of extreme cold and crushing heat. We have sailed across oceans, transited through the Panama Canal and enjoyed beautiful destinations including Bermuda, the diversity of New York and the warmest of welcomes in Derry-Londonderry. The Clipper Race experience has, for me, delivered against my personal objectives leaving me now with the challenge of determining "what's next" and how I can make a difference - I already have some ideas!
Image source: https://www.clipperroundtheworld.com/