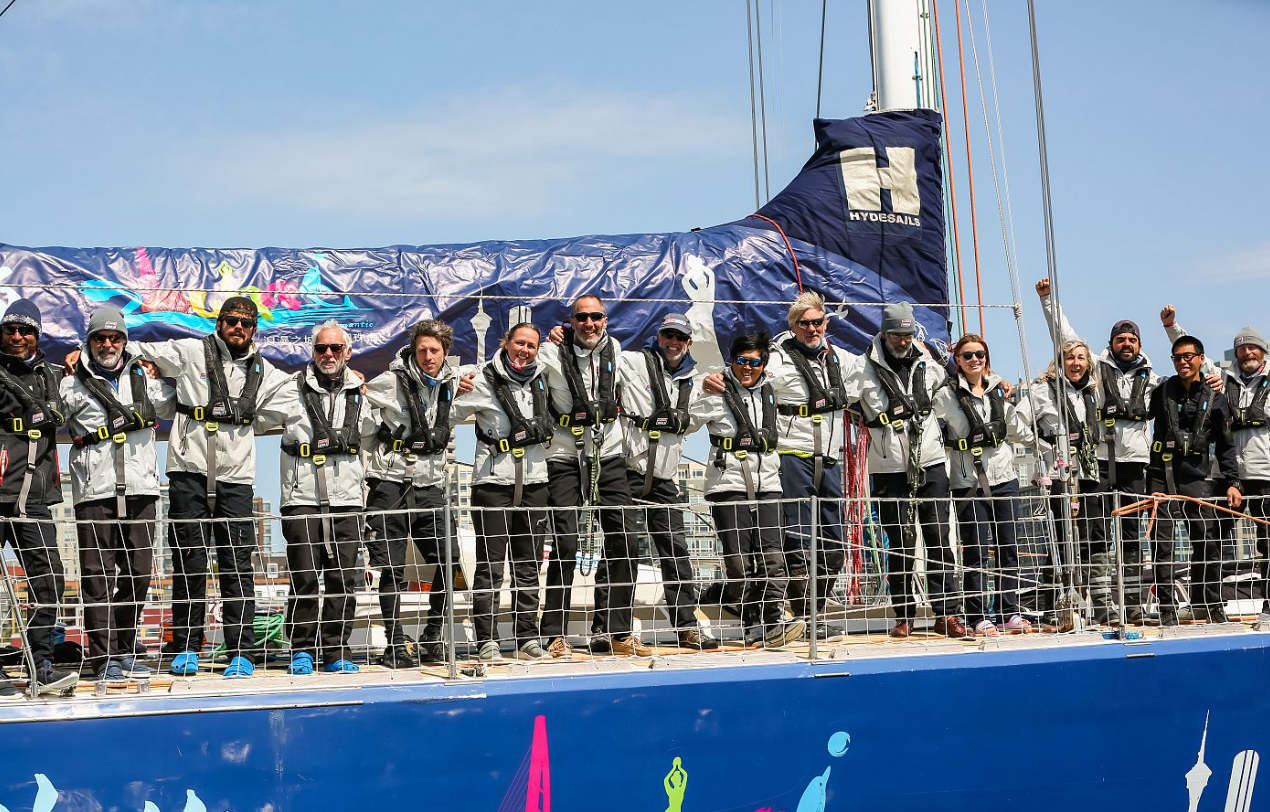 Learning About Leadership and Team Dynamics from the Clipper Race
Leg 6 - The Mighty North Pacific
GRA's Brand Ambassador, Pat Turner, on board Team Zhuhai, gives us the run down on Leg 6 of the Clipper Race and some rare insights into the team and leadership dynamics on-board. These insights pose all sorts of similarities to those faced in the corporate world, so what lessons and learning can we take from them?
We had all the ingredients required for one of those somewhat unreal reality TV shows. 16 people, largely strangers before meeting up for the start of the leg, mixed nationalities, almost 40 years age range, different backgrounds and occupations, males and females with mixed levels of sailing expertise. We were about to start the North Pacific crossing - one of the longest and demanding legs of the Clipper Race. What could go wrong?
However, we did all have a few things in common. We had all completed the full Clipper Race training programme across 4 levels of knowledge and sailing capability. We all shared an ambition to sail across the world's biggest ocean. We were all ready for the challenge ahead.
The 14 crew, along with the two Clipper Race professionals, our Skipper and Additional Qualified Person (AQP), made up the Zhuhai Team for Leg 6. We had already completed 5 days of Level 4 refresher training, which facilitated the team's development and the intra-team style of leadership and communication. We had moved through Tuckman's Forming stage of team development, towards a healthy Norming stage (with some Storming and individual relationship building working its way through). We were ready to test and develop our abilities and transition into the Performing stage of a team's development.

Importantly, the leadership style and approach had been set out at outset. Our Skipper advised us that this was our race, our boat and it was up to us to sail her. The Skipper and AQP were there to ensure our safety, step in when required, to coach and train us, and complete specific tasks where they had the expertise or were required to complete. Now, not all Clipper Race Skippers adopt this approach - some may wish to specify requirements and assign specific sailing roles based on individual capability. For our team, this more open and broader approach aligned with our priorities - to be safe, to develop our sailing skills and knowledge, to then sail as well as we could. Whilst this all occurred within the context of a race, we were ambitious for ourselves rather than where we eventually finished.

To facilitate team performance, as you would hope to see in any good business, coaching support was an important component being delivered by the professional sailors and over time by those crew who had acquired the relevant capability. Feedback was open, encouraged and was supportive of how to improve next time. The leadership style (and that of the team) was primarily consultative other than those times where direct instruction was essential - for example, a course change or an immediate action linked to the ongoing sailing activity. Every day provided an environment for situational leadership and a team's response to this.

The team as a whole was broken out into two watches, or groups, within which each group agreed how they would operate and work together. This latter approach worked well for us, as it supported a common and equal basis for undertaking all required tasks and duties. For example, the crew equally shared helming activity for about 80% of the time at sea during which we undoubtedly built up our skills and knowledge such that we were more comfortably discussing the impact of a changing Apparent Wind Angle or the True Wind Direction on our intended heading/direction and the sail trim (the position of the sails to the wind). We were learning whilst improving performance, building greater engagement and motivation. Sounds like everything a great business would have!

We had a few challenging times - an urgent need for both watches to manage a change in sails as we rapidly headed into a Force 10 storm south of Japan, and the frustration of a wind hole some 500 miles from the finish line comes to mind. We generally either got on with the task in hand (being the only course of action in stormy conditions) and/or took time out to share viewpoints and considerations before coming to a decision.

We are now looking forward to the start of Leg 7 and the journey south into warmer seas, the Panama Canal and Bermuda. Seven crew members finish and leave the boat here in Seattle with a further 7 joining - that's a 50% turnover! Team dynamics will naturally change, we will need to re-form as a team and build up again. Different people will bring different perspectives, capabilities and personal objectives - I'm confident that our style and approachable will work for all Leg 7 crew members and that the next 35 days, or so, will be an exciting part of the Clipper Race experience.